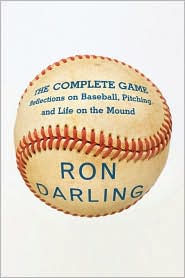 When I'm working with the kids I coach, I sometimes get a bit over enthused about pitching. I love pitching. I love watching a pitcher work. I love when a pitcher is on his game and controlling the tempo and flow of the game. I love when a pitcher doesn't have his best stuff and tries to get by with whatever is working. I get caught up sometimes to the point I have to say to myself "too much inside baseball, keep it simple" but I can't help it I love pitching and that's why I love Ron Darling's new book THE COMPLETE GAME, Reflections on Baseball, Pitching, and Life on the Mound (Published by KNOPF)
 
Darling splits the book into Innings and recounts games, some he pitched in, some he broadcast and gives the reader an education in how a pitcher goes about his business on the mound and his preparation off it as well. Darling gives us insight in what goes through a pitchers mind when it comes to pitch selection, how the pitcher keeps a Rolodex of batters in his head and how scouting reports click in during the at bat and his plan of attack.
 
You get a feel for the life a player leads in the minors to how his life changes when he gets "The Call"
 
As great as Darling is on TV with his analysis he's even better on the printed page. This book is not just a book for Mets fans but for all baseball fans who want some good solid "Inside Baseball" reporting.   
Ron Darling will be at BORDERSÂ  @ 100 Broadway today at 12:00PM to sign copies of his book
Average Rating:
4.9
out of
5
based on
280
user reviews.