On March 1, 2000 Rick Pitino then the coach of the Boston Celtics after a loss to the Toronto Raptors that let Celtic fans in a state of despair and booed and jeered the C's with gusto, came out with one of the classic rants in the history of sports:
 
  "Larry Bird is not walking through that door, fans. Kevin McHale is not walking through that door, and Robert Parish is not walking through that door. And if you expect them to walk through that door, they're going to be gray and old. What we are is young, exciting, hard-working, and we're going to improve. People don't realize that, and as soon as they realize those three guys are not coming through that door, the better this town will be for all of us because there are young guys in that (locker) room playing their asses off. I wish we had $90 million under the salary cap. I wish we could buy the world. We can't; the only thing we can do is work hard, and all the negativity that's in this town sucks. I've been around when Jim Rice was booed. I've been around when Yastrzemski was booed. And it stinks. It makes the greatest town, greatest city in the world, lousy. The only thing that will turn this around is being upbeat and positive like we are in that locker room… and if you think I'm going to succumb to negativity, you're wrong. You've got the wrong guy leading this team."
 
This is the kind of Rant I want out of my Manager of the Mets the self pro-claimed GANGSTA' I want him to tell everyone that "Darryl Strawberry, Keith Hernandez and Gary Carter are not walking through that door". I want him to tell the media, fans and his players to shut the fuck up about who isn't here and worry about who is here. I want him to order his players on the field today in Milwaukee to take infield as I don't give a rats ass what time they got into town after last night's embarrassment. I want him to call out which ever sniveling veteran it was who went crying to the papers whining that "A deal would send the message they want to win and will do what it takes to helps us" and let him know the he and the rest of the 25 man roster needs to grow some balls and get their heads out of their ass on defense. You want to give teams 5 and 6 outs and inning? Babe Ruth couldn't saved your sorry ass.
 
Does this team need a slugger DUH!? But if you think by obtaining Adam Dunn, Adam LaRoche, Nick Johnson or the new flavor of the week Mark Teahen is going to make a difference then you're blinded by the J-Man smoke screen. This team' piss poor play is a direct reflection of the manager in the words of the great Bobby Valentine, "Proper preparation prevents piss poor performance" and this latest piss poor weekend is on Jerry Manuel.
 
J-Man is starting to show cracks in his amour. He moans and groans about the team keeping its head above water, and trying to stay in it until the injured get back it seems it had got D-Wright to get his back up when he said he didn't know about treading water that he plays every game to win. You have Gary Sheffield saying "Management is going to take care of what they think we need, people shouldn't think we come in here and do double takes at the lineup every day. We should have what it takes to win and we should be doing better, if they got a bat it would be great and everyone would applaud it. That doesn't mean it should be necessary"
 
Exactly that goes back to players not coming through the door.
 
Maybe Omar should take some time from burning cell phone minutes to go straighten out his manager and let him know if he can't handle this adversity there's a guy in Japan who thrives on it.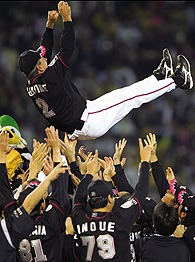 Average Rating:
4.7
out of
5
based on
289
user reviews.