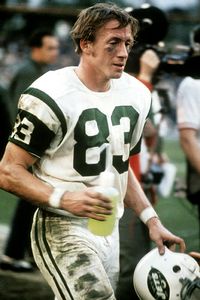 No one is talking baseball in NYC today as the Jets have taken over this town as they ready themselves  for the AFC Title game against the Colts.
Even though I'm a die hard NY Football Giants fan, I hope the Jets win today as I know too many Jets fans who have never seen thier team win a cahmpionship and that's sad.
What I can do without and it is one of the biggest flaws that NYC has are the front running bandwagoners.Every local news cast is full of these assholes who all of a sudden discovered football and are Jets fans. They were Highlander fans in October and now Jets fans in January. Must be nice to pick and choose who and when to root for a team.
As much as I rant against the Mets here, I love this team more than an grown up should. In fact it scares me a bit how much I care about the NY Mets.  Sure I'd love to see them win championships and be the talk of the town like the Jets are now and the Bronx Bastards seem to always be but right now I'd settle for a team and organization that is respected and plays good hard fundamental baseball.  I don't think that's too much to ask for is it?
Jets 19
Colts 17
Lito Sheppard with the game winning TD with .30 seconds left in game
Saints 35
Vikings 17
The Who Dat's vs. Gang Green in South New York City Fl.
who is that player in the pic? and don't cheat
Average Rating:
4.7
out of
5
based on
259
user reviews.