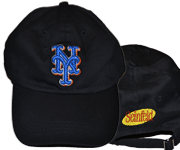 A tip of the BLUE Mets cap to The Mets Police for this pic of the offensive Seinfled cap
Observations from a busy weekend, and a happy belated Mother's Day to all the mommies out there:
I went to the Mets-Dodgers games Saturday night as we live a in a time where you can go on your computer in the afternoon and buy and download tickets to a ball game that night in the comfort of your own home. I wish the atmosphere at the ball park could be as blissful as purchasing the tickets.
The Mets gave out caps on Saturday sponsored by Seinfeld, now I am a great fan of Jerry Seinfeld, but those caps that were given out were an embarrassment.  My wife told to stop complaining as what were you expecting for free, a New Era cap? No, not at all but they could have spent an extra dollar to make the cap something I'd wear instead of a one that felt and looked like it was made from scrap paper. Then to top it off it was BLACK. Maybe if they went with blue I wouldn't have been this upset but really that cap was a piece of shit.
We sat in the Pepsi Porch which is my favorite spot of Citi Field but on Saturday, I felt like I was watching the game on the corner of 42 St and Broadway, people getting up during play and then trying to get to seat 17 by going through the first 16 seats of the row in the middle of an inning. I wouldn't bitch so much if it was once or twice but this went on all game long.  The Mets need to do what the Garden and Prudential Center enforce, keep ushers near the section entrances and hold people up until an at bat is done then let them get back to their seats. And another thing, is it so hard to know where you're sitting? How many times do you see some clueless asshole holding four beers standing on the steps of the section with a stupid look on his or her face not knowing where they sit? All you have to do is remember three things Section, Row, and seat.  How do these people function in everyday life?
I tried the Keith Burger on Saturday night and I wasn't impressed at all, in fact in my opinion the only food that's any good at Citi Field is Mama's of Corona, Blue Smoke, or Sausage and Peppers hero, the rest of the food, even the highly vaunted Shake Shack, is overrated.
If there is anyone of the Highlander persuasion reading this site (Michael maybe you can explain this phenomenon that I'm about to address and please remember you are excluded from the group I'm about to call out) can you explain why Highlander fans come to Citi Field dressed like they are going to a Highlanders game and root for the Mets opponent of the day? Do you know what kind of dick heads you people are? I can't even get angry at these morons; I'm just stunned by their stupidity. I go to Highlander Stadium but I never wear my "colors" when I go (unless it's Mets-Highlanders) I always wear my "civvies" and I just sit and enjoy the game and the company as I couldn't give two shits if the Highlanders win or lose the game. It's not like it just of few of these simpletons that come to Mets games, there's so many that we Mets fans look at each other with that puzzled "what the fuck"? look when they stroll around our park.
Just to closeout my Highlander fan rant, last week Highlander fans were ready to run Derek Jeter out of town. If it were up to Highlander fans, "El Capitan" would be lucky to get a paving stone in Monument Park forget a deserving tribute to his career.  Fans felt that Jeter was done, finished, a detriment to the team. Fuck those 3, 000 hits and 5 World Series rings and that first ballot Hall of Fame sitting with his name on it, Jeter has to go. But wait, yesterday he went 4 for 6 with 2 HR's and 3 RBI, so now he's back in the pantheon of Highlanders, that is until he goes 0 for his next 15 at bats, then he's back to a bum.
The more I watch Dillon Gee pitch, the more impressed I am with him.  Gee was called on in an emergency as Chris Young is on the DL with shoulder trouble and what made his start impressive in my eyes was the way he worked out of tough situations. Gee looks on the mound like a guy who knows exactly what he wants to do and tries to translate what's in his head to his arm and more times than not he succeeds. He may not be an Ace but Gee will be around the big leagues a long time as long as he stays healthy.
Give Sandy Alderson credit for honesty when he says, "After Dillon Gee, there isn't much left" as far as pitchers to called up to step into the rotation if need be. Just the fact that Pat Misch was recalled made that statement real. Really Pat Misch ? I'm sick of seeing him and Willie Harris as well and while I'm at it throw in Chin-lu Hu too. How in good conscious can Terry Collins send Hu up to pinch hit? I'd use R.A. Dickey or Big Pelf as a PH'er before Hu.
Keith Hernandez shocked me a bit yesterday when he said during David Wright's at bat in the 9th inning against Vicente Padillia that Wright's bat speed looked like a guy late in his career who can't get around on a fastball. Hernandez was shocked that Wright could not get around on Padilia's fastball as he was the tying run at the plate. Wright has been bad at the plate so far this season but with RISP he's been horrendous. It's time for Terry Collins to drop Wright in the batting order and I guess the only thing stopping that move is Jason Bay not hitting. I'd like to see Collins us a lineup of:
Reyes
Murph
Beltran
Ike/Bay (depending on if it's a LHP or RHP
Ike/Bay
Wright
Pridie
Thole
Pitcher
On days that Paulino catchers place him 7th and Pridie 8th. Hey it's couldn't hurt this lineup needs a shakeup.
Average Rating:
4.7
out of
5
based on
176
user reviews.