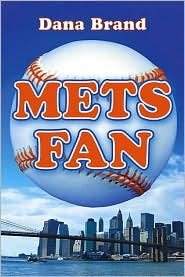 I was set to write about the new minority owner (soon to be majority owner?) David Einhorn, until I found out about the passing of Dana Brand. To say I'm shocked and saddened is an understatement.
When Dana wrote his book Mets Fans, he was gracious to invite me to the book launch party. Dana was a long time reader of this blog and never hesitated to tell me how much he loved my writing, this from a professor of English and American Literature at Hofstra University who gained his PhD from Yale, loved reading what I wrote. It was because of that, the e-mails I receive about my needing an editor and a grammar course made me laugh, if Professor Brand liked my work what the hell did I care what anyone else thought.
I had attended a few games with Dana and I got to meet up with him at the last game at Shea Stadium. Dana and I grew up in the same era and whenever I'd mention bringing my Boars Head bologna sandwich, Wise onion garlic potato chips and my Key Food Root Beer left in the freezer overnight and wrapped in tin foil, he give me that big hearty laugh of his as he had the same game day routine.  We all did, it was a big part of Metsfandom.
It's why whenever we met at Citi Field we acted like a couple of old farts, when he'd look around and say "eh, it's not Shea and shake our heads. We both knew, when Shea was gone so was a major part of our lives as Mets fans.
I am going to miss Dana tremendously as will all of the Mets Bloggers who knew but no one will miss him more than his family and to the Brand family I offer my most heartfelt condolence.
Average Rating:
4.9
out of
5
based on
280
user reviews.