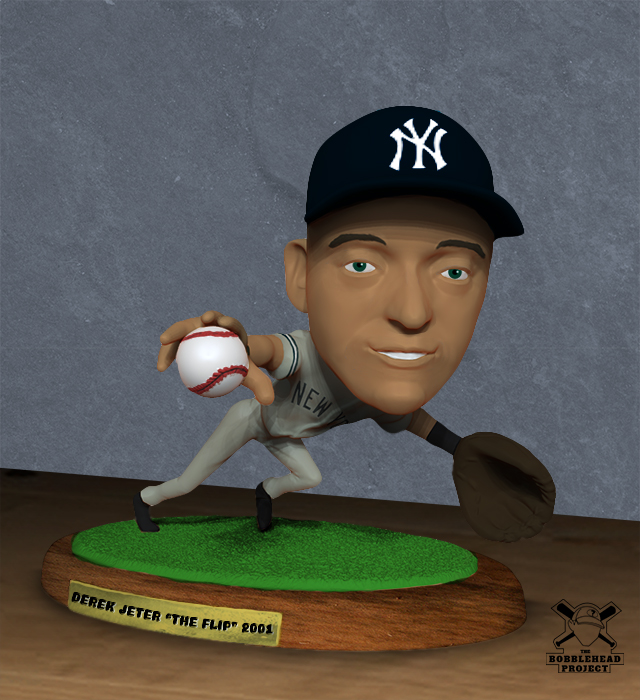 I'm in a bit of quandary with the news that Derek Jeter will hang up his cleats after this coming season. I'm sure I'm not alone; I mean how are we non-Yankee fans supposed to react?
I've seen some astonishing reaction from Yankee fans to shock that Jeter is retiring (the guy is 40 years old with diminishing skills seriously, where's the shock) to some putting up there on the South Bronx Mt. Rushmore ( Babe Ruth, Lou Gehrig, Joe DiMaggio and Mickey Mantle that's the Yankee Mt. Rushmore)
While it's hilarious to watch some Yankee fans act like Jeter passed away instead of retiring after a great and prosperous career (on the field, off the field and at the bank tellers window) I find myself wondering how to react to this news.
I have a ton of respect for Jeter the ballplayer. His Baseball-Reference page lays out a great playing career. The problem I have with Jeter is he never seemed to connect with fans. Now I've yet to hear anyone say a bad word about the Yankee captain and I do commend him for staying off the scandal sheets as well as he has (although we all know about the "gift baskets" he gave to his female conquests) but I just don't have the same feelings about him as a non-Yankee fan as I did for Mariano Rivera.
Jeter was never a great interview subject; the few times he did one on one's he was not exactly a fountain of information.  Rivera always came off as a very humble guy, always with a smile on his face. Jeter always looked like he'd rather be at the dentist than speak into a microphone.
So how do we non-Yankee fans react when the Yankee captain comes to our home for the last time? This is where I'm have a tough time.
When the Mets honored Chipper Jones and Mariano Rivera, I had no problem with that at all. I always respected how Jones played the game and how he loved playing in NYC. Same with Rivera, there was just something about him that I really liked.  It's the same feeling I had for Thurman Munson and Billy Martin even though they were Yankees I had some admiration for them it made me put my Yankee hate to the side. For whatever reason, Derek Jeter doesn't do that for me.
The Yankees come to Citi Field on May 14th and 15th I'm pretty sure one of those days Mets fans will blow up Twitter when the Mets give Jeets his going away gift. In fact the whole internet may explode like the Big Bang that day.
I look at Jeter the same way I look at Queen Elizabeth, I guess she's a big deal but to me, eh what's the big deal.
Two quick Derek Jeter stories :
My wife had won an autographed Derek Jeter framed poster at a school raffle. She had no idea how to get it in the house knowing that we keep a strict Mets home.  Both myself and my son asked here "what are we supposed to do with this" she said "I have no idea do you two think I WANTED to win this" .
That was about two years ago, the poster sits in my basement next to a couple of half-filled paint cans and some carpet remnants  but now that Jeter is packing it in I bet I can get a good price for it or maybe keep the frame for a David Wright poster.
Second story. Back when I was managing little league, the Staten Island Yankees marketing people came to one of our managers' meetings to discuss bringing our teams to the Richmond County Ball Park for a game.  As part of the promotion they gave out raffle tickets to all the managers and coaches in attendance with various prizes to be given away at the end of the meeting. Some managers won tickets to a game, some won t-shirts and caps and one manager won a Derek Jeter bobble head. Yup I won the bobble head.
When my name was called to collect my prize, my fellow managers erupted in laughter. The SI Yankee folks were puzzled about the outburst. It wasn't until the league president informed them about my status as Mets fan, Mets blogger and all around Yankee hater. The marketing men were red in the face when I went up to pick up my Jeter bobble head, they asked me what I was going to do with it, I told them I was going to strap an M-80 to its back and blow it up on the 4th of July. They looked at the league president and asked if he thought I was serious, they were told come by on the 4th to find out.
No I didn't blow it up; I raffled it off to the kids on my team although it would have been something to see that thing blown to smithereens.
Average Rating:
4.4
out of
5
based on
173
user reviews.