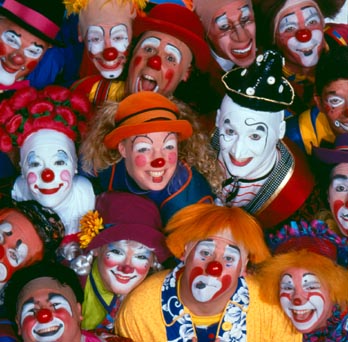 My head is spinning from all the Beltran v. Mets stories. There are some who blame Beltran, some blame Mets management, some blame the doctors, some blame the agent and some blame the fans (just Jeffey Skill Sets feels that way) but the one thing all the groups have in common is the belief that we root for one fucked up organization.
After sifting through all the stories and conversations and comments, I can say I am definitely on Carlos Beltan' side in this mess. I believe Beltran when he said he spoke to Dr Altchek who in turn spoke to Dr Steadman who told Beltran his knee was not getting any better and surgery is required to clean out the fragments floating in the knee. But the real document that tells me the Beltran/Boras version of the events are true, is the fact that Dr. Steadman sent the Mets Workers Comp  and insurance forms in ordered to be PAID for conducting surgery. Without those papers signed off by the team, no surgery would have been done.
Now here is where everything comes back to the obvious. The Mets front office is such a cluster fuck that I expect Krusty the Clown to be named to a VP position soon. Jeffey Skill Sets claims that Dr.Altchek and Ray Ramirez are not authorized to ok a player to undergo a medical procedure, and why should they? Just because Dr. Altchek has a medical degree and Ramirez is a licensed physical trainer what makes them think they know more that Jeffey and his running mate David Howard?
So Beltran goes to Dr Steadman, one of the most renowned orthopedic doctors in the country, and his diagnosis is to have arthroscopic surgery to clean out Beltran's knee. Beltran tells Dr. Steadman to consult with Dr. Altchek , which he does. Altchek agrees with Steadman to do the surgery. Steadman though before doing the procedure needs the Workman's Comp and all insurance forms to be filled out and verified because this ain't no charity case, he wants to be paid. The forms are faxed to Queens. The medical people Altchek and Ramirez look them over, everything is cool, send them back to Steadman, he's cool with it, then he checks his calendar and tells Beltran, you're a lucky guy, I'm free tomorrow at 7AM. Beltran then claims he calls Omar Minaya (remember him?) who wishes Beltran luck and speedy recovery. So where does this story turn for the worst?
Jeffey Skill Sets was not consulted, and he is pissed off because "nobody puts Baby Jeffey in the corner" Instead of letting the people he hired to run such things do their jobs,  Jeffey says "hold the anesthesia" "we need a third opinion" uhhhhhhhhhh a little late there Junior, Beltran is already in recovery after successful surgery on his knee. But instead of keeping his pie hole shut, Jeffey goes off that this is not acceptable and decides this would be a good time to embarrass the organization again and piss off one of his best players and because it's been about a whole two weeks since any dumb shit has come out of Flushing.
If you were Carols Beltran would you wait for a third opinion? If you worked for a competent employer, who actually gave a shit about your well being you would. But Beltran works for a bunch of assholes. Assholes who put a concussed Ryan Church on an air plane to Denver and then treated him like an outcast. Assholes who kept telling Jose Reyes to play through and injured calf and forced him to come back for meaningless games in September because maybe 100 people may buy tickets for a game at $iti Field to see him play and then he tears a hammy in the process. Assholes who did the same thing to Beltran and have now put the team in the jackpot they are in now. If anything Beltran and (I hope your sitting down and not drinking anything if not please sit and do not sip that coffee) and Scott Boras are heroes as someone with clout has finally told Jeffey Skill Sets to fuck himself.
The bottom line, maybe it's time for a 3rd baseball team to play in NYC because I' getting close to filing for a baseball divorce on the grounds of mental cruelty.
Average Rating:
5
out of
5
based on
295
user reviews.
http://www.kranepoolsociety.com/2010/01/15/todays-post-sponsored-by-ringling-bros-and-barnum-bailey-circus/