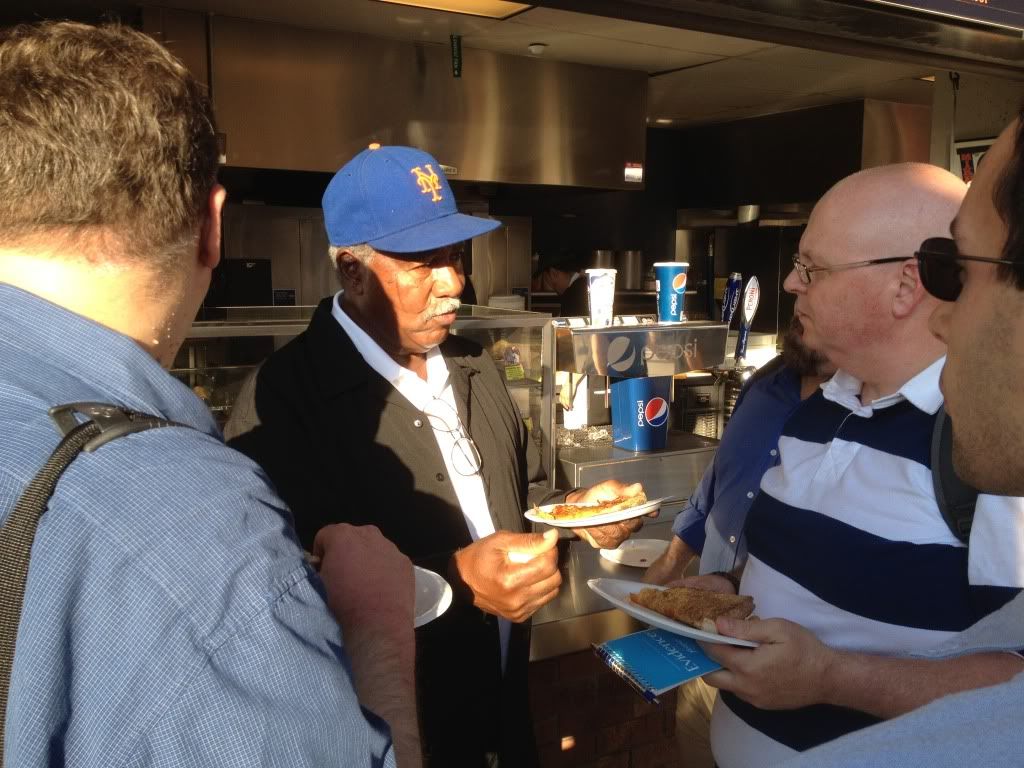 Yes that's Cleon Jones sharing some pizza and great stories from back in the day with Mets Bloggers. Thanks to Shannon Forde and Danielle Parillo for the picture and the great hospitality they shows us last night at Citi Field, The pizza by the way is called the Cleon (patra) Jones from Two Boots it was delicious 
I had a great day/night out a Citi Field last night which the Mets held another of the Mets blogger nights and it was a busy one for sure. I have some audio I'll be downloading in a few days and I'll have more to post as well as I'm pressed for time this weekend between baseball games today and tomorrow and Monday and some family stuff to do tonight and of course tomorrow and add in I'll be at the 92nd Street Y for the announcing of the All Time Mets team to coincide with the 50th Anniversary season.
I'll just add a few things that I'll have more to talk about as the week goes on.
I had the pleasure to chat with Sandy Alderson during batting practice and to observe the teams two top draft picks, SS Gavin Cecchini and C Kevin Plawecki . Alderson is very happy that both players were available to the Mets at their turn especially Cecchini who the GM was their #1 target as the not only love his on field ability but he has as the GM put it "off the charts makeup"
I spoke to Plawecki' parents at the press conference and told them I was excited that their son would play for the Brooklyn Cyclones. I also told his mom and dad, who are staying in town to watch his debut on Monday in Brooklyn, to have Kevin take then to Gargulio's for dinner and spend some of that bonus money.
If you would have told me back in 1969 when I was an 11 year old watching Cleon Jones catch Davey Johnson's fly ball for the final out of the World Series that sealed the Mets as World Champions that 43 years later I'd be hangin' with Cleon and eating pizza at Mets game with him I'd have thought you were on strong narcotics. Well, there we were me, Cleon Jones and Two Boots pizza. WOW!!! Or as Greg Prince said to me "that's Cleon Freakin' Jones "
If you were at the game last night and you booed Jason Bay as he came off the field with what we now know is a concussion, you need to stop calling yourself a Mets and you need to take stock of what a low class asshole you are. Bay has been a major disappointment since he signed with the Mets and I understand the frustration fans have as he is the last remnant of the old regime that ran the baseball ops but to boo a guy who gave his body to make a play and a guy who gives 100 % and goes head first into the wall with his history of concussions, is totally classless and you should be ashamed of booing him but then you knuckle draggers have no shame.
I didn't stay for the Reo Speedwagon concert and if it were 30 years ago I still wouldn't have stayed for the concert .
I am still with 28 (#ImWith28) but I have to say, Daniel Murphy needs a couple of days off. Terry Collins would like to have him stay out of the batting cage as well but that goes against Murph's work ethic. Collins made mention on how Murph is non-stop at working on his stance and hitting in the cage and viewing video and as much as TC and Dave Hudgens tell him to take it easy a bit that just makes him work even harder. With Justin Turner back from the DL you could see Turner and Jordany Vladespin  give Murph a needed break from 2nd base for a couple of games.
Average Rating:
4.5
out of
5
based on
172
user reviews.
http://www.kranepoolsociety.com/2012/06/16/another-great-mets-bloggers-night-at-citi-field/