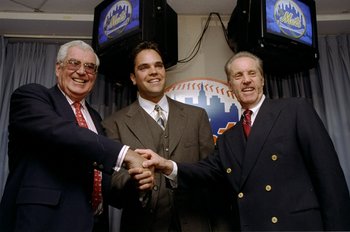 Rumors were flying again yesterday that Jose Reyes signed with the Flamboyant Fish but those rumors seem premature but it looks like the Mets are going forward in the post-Reyes era by letting it known that #Imwith28 will be given the 2nd base job and team with Ruben Tejeda to secure the middle infield. In the name of the father…… The major problem with #Imwith28 is his two best spots on defense are filled by I Like Ike at 1B and D-Wright at 3rd. Too bad #Imwith28 wasn't a catcher, hummmmm there's an idea.
Chris Jaffe informs us this morning that today is the 25th Anniversary of Freddy Skill Sets becoming the sole owner of the New York Mets buying the rest of Nelson (make mine a) Doubleday controlling interest. In his column, Jaffe, informs us that the Mets have played just a tad over .500 ball since Freddy's takeover (2, 017-1, 962 1962? Oh the irony) but have an overall losing record since 1989. Enjoy your Monday.
You load sixteen tons,   what do you get?
 Another day older and deeper in debt
  Saint Peter don't you call me cause I can't go
   I owe my soul to the company store
Look, I'm a fan of the New York Football Giants and you're a fan of the NY Jets and we're both upset today after how our teams fared yesterday but my question to you today is would you be surprised if the Patriots won the Super Bowl? I wouldn't unless of course their played the Giants in the big game 'cause the G-Men got the Pats number. Oh and how about BB HC of NEP telling the J-E-T-S defense to felaite him? Oh my!
Average Rating:
4.5
out of
5
based on
280
user reviews.
http://www.kranepoolsociety.com/2011/11/14/where-have-you-gone-nelly-d-mets-fans-turn-their-losing-eyes-to-you/