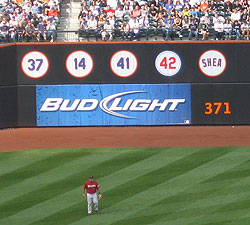 With the report yesterday that the Mets will construct an 8 ft wall in front of the 16 ft Great Wall of Flushing in left field and the more dramatic change in right center field where the Mo' Zone little alley way will be no more and the distance from home plate to right center field goes from 415 ft to 390 ft tells me unless he is bowled over with a huge return, David Wright will be a Met in 2012 and most likely beyond that.
Not only have the dimensions of Citi Field been altered for the benefit of Wright but they should aslo help Jason Bay as well as both he and Wright have been traumatized by the fly balls to nowhere in Citi Field. I guess you could call it psychotherapy through carpentry.
The Mets announced they have released Ryota Igarashi. This move is about six months too late.
A lot of talk about Albert Pujols not talking to the media after Game 2 of the World Series, a game where El Hombre made what could have been scored an error, allowing what proved to be the winning run to advance to 2nd base. There were some folks on Twitter that felt it was no big deal that Pujols not only blew off the press by not being at his locker to answer questions but hid in the back of the off limits section of clubhouse until they were gone.  As a baseball fan how could you not be insulted by Pujols action? This wasn't some game in August against the Astros, this was Game 2 of the World Series. Of course Tony La Russa had Pujols back he always does right or wrong but someone in the Cardinals organization needs to let Sir Albert know he has a responsibility to speak to the media after a World Series game.  What they're afraid of that he'll sign elsewhere as a free agent?  Pujols is better off in St Louis or another small market as he would never survive in NY, Boston, Chicago or LA
I hope the Jose Reyes saga plays out fast instead of the slow festering ache I believe it will. I have come to grips with the fact that Jose Reyes will be an former Met in 2012. Just read this post from Howard Megdal who knows exactly how the organization is ready to play out the Reyes Passion Play. Oh by the way, Reyes, no Reyes I will still but tickets to Mets games in 2012 and hopefully beyond that, and please when Reyes signs with the Nationals or Angels or Red Sox please don't compare this to Tom Seaver getting traded to the Reds, that is too fucking ignorant for me to comment.
Average Rating:
4.8
out of
5
based on
231
user reviews.
http://www.kranepoolsociety.com/2011/10/22/if-i-had-a-hammer-id-hammer-in-the-morning-id-hammer-in-the-evening-all-over-citi-field/