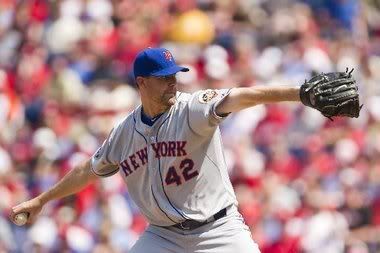 The good news is the Mets are 6-3 and took 2 of 3 from the Phuck Phaces in Filthadelphia. Should they have swept?  It not only would have been very sweet but I would have had a much better vibe about this team than I do this morning if they did. Do not get me wrong, I am very happy with this start and any time you can go to Filthadelphia and win a series is a solid positive but again the Mets allowed a team to get 4 or 5 outs in an inning will be the difference between the club staying in playoff contention or dropping to the second division.  The Mets are just not good enough to make a lot of mistakes.
Mike Pelfrey had another solid start yesterday, sure that WHIP of 1.80 is not good at all and he does leave pitches up in the zones that get smashed but yesterday after the first inning that looked like the beginning of a disastrous start, Pelf made adjustments and relied a lot on his sinker, a 90+MPH sinker I might add, and got ground ball out after ground ball out. Nice job out of Pelf.
I know Mike Nickeas is here for his defense but I don't see how he is this solid defensive receiver.  Throwing out Juan Pierre at third was more on Pierre being an idiot making the third out at third base, than Nickeas being Jerry Grote. I'll give Nickeas a bit of a hat tip as he seems to call a decent game but his backhanding of balls in the dirt and inability to keep balls in front of him has me turned off a bit.
Teams that have 2-1 leads going into the 7th inning have to get those last 9 outs and the ones that do are the teams that are pennant contenders. So far the bullpen has done a great job (Bobby Parnell, Jon Rauch and Frank Francisco) but yesterday when the frontline relievers weren't used and the second tier arms came in the game, the results were a disaster. It wasn't all Ramon Ramirez, Miguel Batista and Manny Acosta' fault as Ruben Tejada made a bad throwing error and Scott Hairston played left field like he had marbles instead of spike on his shoes but again this team has a super model thin margin of error.
Congrats to Mets Fan Rich for sending in the correct answer to yesterday's trivia question (R.A. Dickey gave up 6 HR's in a game tying a modern MLB record) and winning the VIP tickets to the Tribeca Film Festival showing of Knuckleball! On Saturday April 21 at 8PM. This event is open to the public for FREE. So come on down and get a chance to meet R.A. Dickey, Charlie Hough, Tim Wakefield and Jim Bouton.
Average Rating:
4.7
out of
5
based on
271
user reviews.
http://www.kranepoolsociety.com/2012/04/16/ny-mets-had-a-good-weekend-but-it-could-have-been-a-great-weekend/