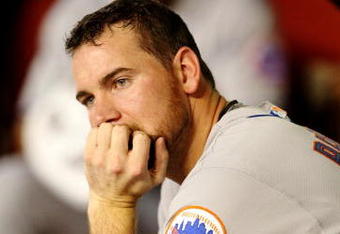 As I sat and watched last nights game and another Mike Pelfrey melt down I wondered if Mike Pelfrey still had minor league options and would the Mets make a move to send him to Buffalo? I was set to tweet this to find an answer  and just as I was about to type, Gary Cohen (belated Happy Birthday to Gary by the way) answered my question for me, yes Pelf has options and Cohen took it a step further and asked would the Mets send him to Buffalo? Cohen and Ron Darling thought that might be the move to make but Keith Hernandez was not in favor. If you ask me, if you can option Pelfrey to Triple A then you have to do it for his sake, the teams sake, and maybe the least, for the fans.
It's to the point where watching Pelfrey pitch has become very uncomfortable. The hand licking thing is really, really annoying, it's like a nervous twitch.  I always get the feeling we are one hit or walk or balk away from Pelfrey  curling up on the mound in the fetal position and sucking his thumb. Especially in Philadelphia where he routinely melts down.
The 4th inning last night was a prime example. You knew as soon as Ryan Howard hit that home run, Pelfrey was done for the night. That home run would stay in his head for the rest of the start. There is no "turn the page" in the Mike Pelfrey Playbook.  After the home run, next batter Ben Francisco gets a base hit and steals second because Pelfrey is still thinking about the home run and Josh Thole is still a green horn behind the plate and that's a problem as well. Pelfrey needs a veteran catcher to call the game for him. He's stated this as the less he has to think the better he is, that's why he loved pitching to Henry Blanco, and to an extent pitched his best game of the year throwing to Mike Nickeas. If the front office feels they want to keep Pelfrey up here then they should make Pelf become Ronnie Paulino's pet project and have him become his pitching chauffer.
The decision on what to do with Pelfrey becomes even dicier with Dillion Gee still here. It's clear, if the Mets are not going to put Gee in the rotation then they need to send him to Buffalo and let him pitch every fifth day. It's not fair to him. His mind set is as a starting pitcher and I felt Terry Collins (who did an awful managerial job last night, how do you walk Brain Schneider intentionally with two out and the pitcher up next?) did Gee a real disservice by bringing him in relief like he did. Collins wanted to start Gee last night to give Pelfrey a couple of more days to get over the flu bug that wore him out. Collins let Pelf talk him into giving him the ball. I hope TC learned always go  with your first instinct next time.
So my patience is up with Pelfrey and a shuffle up to Buffalo or a trip to Dr. Phil' couch look to be in order. As for Pelfrey being the ace of the staff, that was some made up main stream media mumbo jumbo bullshit. As Bobby Valentine says, the ace of your staff is that day starting pitcher. Amen!
Average Rating:
4.6
out of
5
based on
279
user reviews.
http://www.kranepoolsociety.com/2011/04/30/bats-in-the-pelfrey/