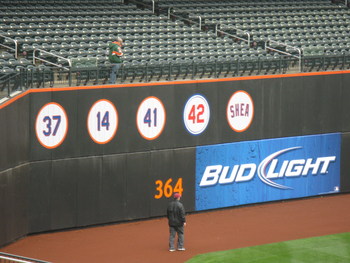 Took a day off from blogging and social media to celebrate my son's birthday by spending the day in the city and taking in a performance of Spider Man Turn Off The Dark. The show itself was entertaining it's no Guys and Dolls but hey what is! I was disappointed in the music since Bono and The Edge wrote the score and the only song I really enjoyed was when Patrick Page, who really saves this show as his role as Green Goblin was the highlight of the performance, sings A Freak Like Me Needs Company to open a second act that salvaged the show for me. The high flying Spider Man and Green Goblin scenes are spectacular as is the make up job doen on Page as the Green Goblin .  Just the fact that Spidey made it this far on Broadway is an accomplishment.
On to the Mets, in no particular order:
The news that John Franco and Mike Piazza will be the participants in the first pitch of the game on September 11th and the Mets will wear caps of the first responders of that tragic day, will help bring some joy to Mets fans on what should be proclaimed a National Day of Mourning. It's still hard to believe that it will be 10 years since the attack, of all the scenes of carnage and despair of that day, the vision of seeing the smoke smoldering from the wreckage of the Towers, from my bedroom window still haunts me.
When I first heard about Howard Johnson playing for the Rockland Boulders this weekend so he could join his son Glen I thought it was a silly stunt but then I thought it's an Independent League so really who cares?
Jason Bay to center field? Flanked by #ImWith28 and The Dude? Better find some pitchers with a high GB/FB ratio.
Safe to say something will happen with the dimensions of the Great Wall of Flushing, like cutting the wall in half to 8 ft. I've stood on the warning track under that Great Wall and that is some rarified air up there. Bringing in the fences is not needed but an 8 ft left field wall will make a big improvement and hopefully help the stigma that David Wright and Jason Bay seem to have with the wall.
Average Rating:
4.6
out of
5
based on
178
user reviews.
http://www.kranepoolsociety.com/2011/09/01/mr-skill-sets-tear-down-that-wall/