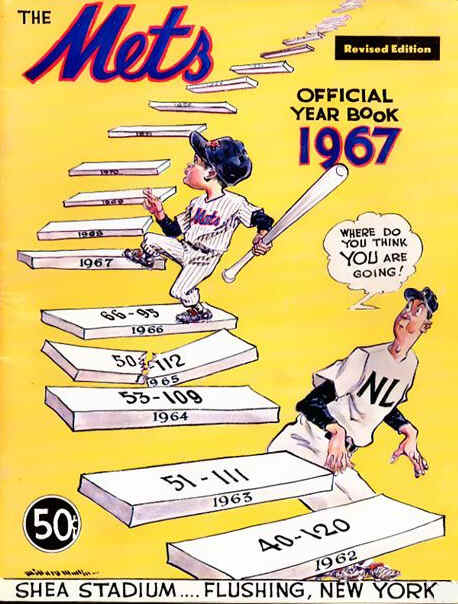 With the New York Highlanders celebrating their annual Old Timers Day today, many Mets are wondering "where's ours"? And of course managements response is "Yesh, too much work, not interested" Dave the Lawyer who has moved up the organizational ladder from Head Shyster to Minister of Bullshit, claims lack of fan interest, lack of sponsors and it cost too much as reasons for no celebration of the Bruce Boisclair', Johnny Lewis' and Roy McMillan 'of our past. So what the Minster of Bullshit in the Court of Skill is telling the fans is the organization is lazy, unimaginative and really couldn't give a shit about the teams past as we have seen with our new state of the art park that not until there were embarrassed (yet again) Mets management will address (like moving the retires numbers and the old Home Run Apple from the back of the visitors bullpen to maybe a more heavily trafficked area). It seems ownership is in denial about the teams past and as is the case most times have no grip on the feelings of their fan base. If any group of people deserve to be embarrassed it's Mets fans for having clueless owners in control of our beloved franchise.
It will be great to see Tom Seaver and Nolan Ryan at the 1969 World Championship celebration but the best reunion will be of Nancy Seaver and Ruth Ryan
Man is still taking heat for his crack on the Mets quacks but as we see Gary Sheffield has gone from cramps in the leg to a tweaked hammy. I getting to the point where I think Manuel really doesn't like being here anymore as that remark tells me he is fed up with the overall ineptitude with the organization.
As much as I think Tim Redding sucks, it's really not fair what the Mets are doing to the guy just put him out of his misery and stop leaking new to the press then back track but then again what am I thinking only an organization with strong leadership would do that.
By the way why is Tony B the "high ranking official" on this road trip? Where is Omar? Getting his nursing degree?
My 13 yr olds have do or die game today at 2PM it's win or go home and I'm not ready to end this season. I will be pulling out all stops before the game. I've instructed the kids to be at the field by 1PM. I have not shaved in two days so I have a good scruff going. I have a big bag of sunflower seeds that I'll eat while giving my pep talk and my trusty fungo bat will be in hand and whoever drifts off during my talk will get a shower of shells and the barrel of the fungo pointed at them. The theme will be THE SEASON WILL END TODAY!!!!! I better make sue I do this all the way out in centerfield, it won't be pretty