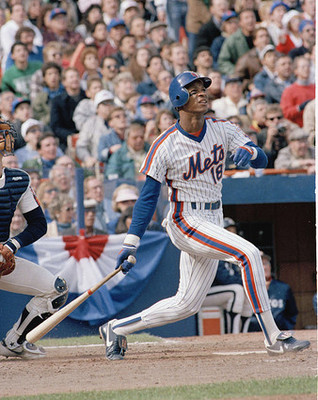 I couldn't find a picture of THE home run but who could forget the home run off the clock in St. Louis by Straw on October 1, 1995. I thought about that home run after watching last night's come from behind win. Ahhh what we once had……  
Most of the Mets news this morning is of the off the field variety, with some mention of yesterday's big 9th inning rally. After last night's game all I could think of if the Mets were in a chase for a post season berth this game would have been labeled one of the all-time great game in Mets history, instead all it gets is an "atta boy". Sad.
All the Madoff-Skill Sets-Piccard bullshit baffles me as Freddy and Uncle Saul keep going with the "Hey, we were duped too" defense. I find it very hard to believe the story that Freddy and Saul were these two neophyte investors who were blindside by Bernie Madoff. The point that Freddy and Saul say the never even asked what Madoff what he was investing their money in is the "are you fucking kidding me"? moment for me. Am I to believe that at no point in this whole scheme and big returns on their investment, Freddy and Uncle Saul didn't ask, "Uhmmm Bernie, just where are you investing our money"? Pharmaceuticals? Precious metals? Trafficking of children for sex slaves? I know I hold the Skill Sets in low esteem but even I don't think they were that stupid not know where their money was going.
The Daily Snooze says today the Mets will look at exercising Terry Collins 2013 contract option at the end of the season, as I believe they should. There will also be a discussion on the status of coaching staff and it seems that even with Collins coming out saying he would love to have the whole staff back, Chip Hale may migrate to Oakland to join Bob Melvin and Old School Dan Warthen could be done as pitching coach. It would be a loss to lose Hale, as he's a very good 3rd base coach and a hard worker but losing Warthen seems like no great shakes, in fact it's time for Warthen to go and get a new voice for the pitching staff that ranks last in just about every statistical pitching category.
How about the last minute desperation from the Red Sox as they tried to get Chris Capuano in a deal? Seems the Sox didn't make enough of a tribute to Sandy Alderson to make this deal or it could be Alderson has plans to bring Cap back as either a spot starter/long man role in the Darren Oliver mold for the Mets next season. It could also be that the deal breaker was Alderson' insistence that Theo Epstein had to take Ryota Igarashi on the deal
Last home stand of the season starts today, I'm going to Wednesday's game, the season finale because it's the last game of the year and as bad as the season is ending, comes November and December when it's cold, snowy and downright miserable, you'll be wishing you were at the ball park instead of the business end of a snow shovel.
Average Rating:
4.4
out of
5
based on
217
user reviews.
http://www.kranepoolsociety.com/2011/09/23/what-a-game-that-would-have-been/