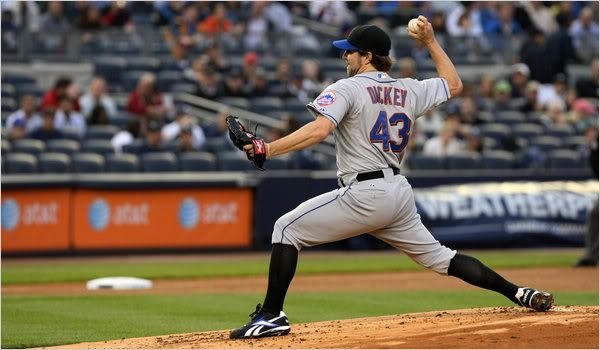 A few observations on last night Mets win over the NY Highlanders:
Reports of the demise of R.A. Dickey and his knuckleball have been greatly exaggerated. The Dickster was spot on with his Dance of the Sphere With 108 Stitches, that floated through the Bronx night. The Highlanders got to R.A. for one run, on a home run by Mark Texiera that just nudge itself over the right field wall of Cheap Knock Off Stadium.  At Citi Field, Ruben Tejada gets a P4 in the score book on that bloop.
I haven't watched many Highlander games this season but after watching them last night, my question to Highlander fans is "do they always look this feeble"?
If you thought I was a Terry Collins fanboy, how about the Mets TV announcing team? Gary, Keith, Ron and Bobby O were gushing about the job that TC has done with this team. If you're still not convinced that this team is in tune with the manager, then how about this. Last week after a Mets win, in his post game presser, Collins out of the blue singled out the struggling Josh Thole for a great job he did behind the plate and for some great at bats. Last night when Kevin Burkhardt spoke to Daniel Murphy after the game and wanted to know about the HR he hit that proved to be the game winner, all Murph wanted to talk about was the outstanding job Dickey and the bullpen did. The Mets are starting to take on the manager's personality.
All this Rapture, end of the world talk we've been hearing is pure bullshit. Nothing will happen until Justin Turner says it happens.
After watching Jose Reyes last night all I kept think was the Skill Sets better sell whatever else the own to raise money to keep Jose. If that means selling all their homes, cars and boats and moving into the Queensbridge Houses, then so be it.
Frankie Rodriguez has been so good so far this season that I only eat two Tums and one teaspoon of Maalox when he comes into a game .
The one big drawback tonight is the game is on FOX
Felt bad for F-Mart and Ruben Tejada last night as they were disrespected   by home plate ump Tim Timmons last night. F-Mart motioned to Timmons for time as Freddy Garcia went into slow down mode in the 7th and his request was denied and a strike was called as Garcia threw a pitch after Martinez stepped out of the box. Timmons then called a third strike on Tejada in the 9th inning to halt the Mets attempt  to get an insurance run.
Average Rating:
5
out of
5
based on
298
user reviews.
http://www.kranepoolsociety.com/2011/05/21/welcome-back-r-a-dickey/