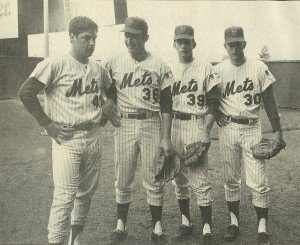 Are we looking at a Mets Renascence ? 
I've been quite lax in posting on the site for the last week or so. It's been tough to fine time to sit and write as I've been visiting colleges that my son has been admitted to and getting ready to move the office I work at to Downtown Brooklyn. In between that I've been doing my Kranepool Society podcast, Kult of Mets Personalities Podcast and of course The Sports Media Watchdog podcast.
But since I think I'm done visiting college campuses up and down the east coast and all I have to pack now is the crap in my desk, I figure let me take some time out and look at what's going on with our Amazin' Mets:
Matt Harvey is no longer a secret.  Each Harvey start has now become an event and there is much anticipation of a Friday night match up of Harvey v. Stephen Strasburg. Harvey just over powered the Twins line up going mainly with fastball after fastball, getting ahead in counts and then using his slider to keep Twins batters off balance. Fooling hitters. Pitching 101.
The Friday night game at Target Field was uncomfortable to watch on television so I can imagine how tough it was to play in those lousy conditions which of course didn't hurt the Mets offense. Still,  playing baseball in ski hats and thermal underwear just out right sucks.
It gets no better as the Mets head to Denver where it supposed to be colder and just as snowy as it was in Minneapolis.  You wonder how and why MLB would send the Mets to two cities Minneapolis and Denver, so early in the season when you know it's the only time this season the will visit and knowing the unpredictable weather both cities are known for in early spring? Phyllis Merhige the Sr. VP of MLB gets very defensive when she's questioned about the ridiculous scheduling saying it's very difficult to schedule 30 teams for a 162 game season. No one is questioning the effort in putting the scheduling together, what I question is the common sense that goes into making up the scheduling.
By the way, Happy Jackie Robinson Day, of course the Mets are on the road and not at Citi Field to celebrate the day Robinson made his big league debut, yeah, yeah I know it's difficult to schedule 30 teams yada, yada, yada……………
I haven't had time to go see "42", I hope to go Wednesday to see it, but from what I've read and heard from those you have seen the film it's quite informative and entertaining.  Can't wait to see it.
Zach Wheeler pitched again yesterday and it was his best outing of the season. His last two starts Wheeler has been hampered by blister on the index finger of his pitching hand so yesterday's start with 0 BB and 8 K's was quite encouraging. I hope the Mets will promote Wheeler on merit and not leave him in Triple A just to keep his "Super 2" status in check. The days ofnickel and diming are over. Management should be bowing to Matt Harvey for rejuvenating the fan base and the thought of a Harvey-Wheeler-Niese top three in the rotation is the first ray of hope we've seen in a long time.  I hope the Skill Sets are aware that as soon as Matt Harvey finishes a start, Mets fan are going to the schedule counting off 4 days of rest to be ready for his next start. Harvey is now approaching Seaver/Gooden status. The same will happen with Wheeler as well. This is how you fill a ball park.
So far so good with the bullpen for the Mets. 30 K's and just 8 BB in 27.2 IP and along with a 75 % inherited runners stranded percentage is outstanding.
Oh by the way, there is no way in hell I'd trade Wheeler and Travis D'arunad for Giancarlo Stanton .
Average Rating:
4.6
out of
5
based on
297
user reviews.
http://www.kranepoolsociety.com/2013/04/15/its-early-but-its-also-been-an-encourgaing-start-for-the-ny-mets/