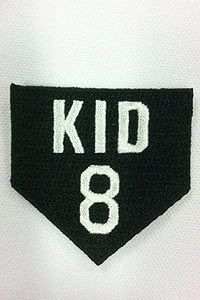 That is the patch the Mets will wear this season in remembrance of Gary Carter. I'd still like to see all uniform personnel wear CARTER 8 uni tops for a game and auction them off for charity
You can't have it both ways. You can't be a Mets fan who feels Terry Collins is being a hard ass to Ruben Tejada for not getting to camp early and then complain that the team isn't very good.
Collins is stressing to his team that they have to work harder than anyone else and be  focused better than anyone else if they are to succeed this season. You can see from the early interviews of TC down in St. Lonesome that he wants his team to stick it up all the naysayer's asses and show that the Mets are a winning baseball team.
The maturation of Matt Harvey continues to be an early training camp story line. As Josh Thole has raved about Harvey's pitch repertoire, the manager and coaches, especially Wally Backman, have raved about his willingness to get their advice on what he needs to do to reach the big league level. Sandy Alderson is on the record as saying Harvey will not break camp with the Mets but Harvey is determined to make that a difficult decision, it's hard to get giddy over Matt Harvey.
Same for Jeurys Familia who along with Harvey was profiled in the NY Daily News today as two guys who are competing for a job in the big leagues but have grown close as teammates and hope to join the big league club together at some point this season.
It's so early in spring training but from reading stories about the mood of the camp and camaraderie  of the players, the Mets are staring to give me a feeling that they could be baseball version of the New York Rangers.
If Jason Bay struggles against right handed pitching as he did last season, the more reason to root for Kirk Nieuwenhuis to make the team as a platoon partner for Bay in LF. No one in the front office will say it but I bet the leash on Bay is short this season especially if he struggles against rhp.
Average Rating:
4.5
out of
5
based on
283
user reviews.