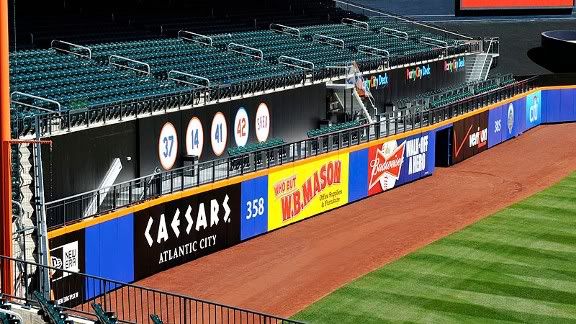 I was invited out to Citi Field today by the Mets to get a tour of the new Party City Deck in Left Field and also to get a gander at the new outfield dimensions and the beautiful BLUE walls. I was impressed by all three.
The ball park looks great as the black outfield walls are now Mets blue. As I walked into the Part City Deck I was totally amazed how bringing in the left field fence by 12 ft could make such a difference in my perception of the distance from the outfield to home plate. I've stood on the warning track at Citi Field before the alterations and felt home plate was located in Jackson Heights, same thing with the height of the outfield wall, which have been chopped in half from 16 ft. to 8 ft. Looking up from the left field warning track I felt like a Chilean miner.
The Party City Deck looks like a great spot to see a game, the section can accommodate groups of 25 to 102. The seating is a combination of padded stadium seats along with barstool with a ledge where you can sit and enjoy classic ball park food (hot dogs, burger, chicken tenders, popcorn, peanuts and homemade potato chips) and soft drinks, water and beer, starting two hours before first pitch. After the second hour of the game, cookies will be served right up to the ninth inning. All of the food and drink are brought right to your seat waiters and waitresses, so there is no standing in line and missing the action on the field.
The price of a ticket to The Party City Deck ranges from $100-$200, depending on the opponent. The area is for group sales but for the final five games of the opening home stand (April 7-11) individual tickets will be on sale.
It's good to see the Mets  realize that the dimensions of the outfield were a problem and made the alteration along with ditching the black wall along with the overwhelming  use of black (or soot as I believe is the official name of the color so predominate throughout the ball park)  throughout the park. It was the first time I walked into Citi Field and felt it was the home of the NY Mets. Amazing what a little paint can do eh?
Can't wait for Thursday. Let's Go Mets!!!
Average Rating:
4.7
out of
5
based on
163
user reviews.
http://www.kranepoolsociety.com/2012/04/03/the-new-party-city-deck-at-citi-field/