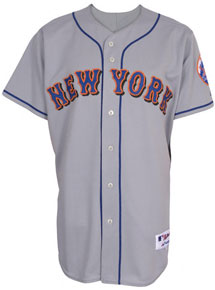 Blogging will be a bit spotty here next week as I'll be heading down to Florida for a week of R & R, unlike the week I spent upstate in the woods camping this is a real vacation.
Lots of positives for the Mets organization last night as the club swept a four game series from the Red Legs for the first time ever, Johan Santana pitched in a rehab game in St Lonesome and his arm did not fall off, and Daniel Murphy is now 3rd in the NL Batting race behind Ryan Braun and Jose Reyes. No Mets player has ever won a Batting Crown and the way Reyes is playing this season there is a very good shot that he will be the first. Who knows after that, maybe Zack Wheeler could be the first Mets pitcher to throw a no-hitter in 2013.
Speaking of Mets pitching phenoms, Matt Harvey was on the mound last night for Bingo against Harrisburg and Nats phenom, Bryce Harper. Harvey had a very strong showing and K'd the much hyped Bryce twice but the B-Mets went down in defeat 2-1 in 14 innings. Harvey went 7 innings and K'd 10 and walked only 2.
Sad news about Hideki Irabu taking his own life yesterday in California. As Mike Silva points out, Irabu's downfall in coming to the U.S. to pitch was his insistence to pitch for the Highlanders. The San Diego Padres held his rights and after a contentious back and forth with Padres ownership, Irabu forced a  trade Irabu to the Bronx where the pitcher thought it would be just like in the movies. He soon found out the myth of the Bronx Bastards failed to mirror the reality of playing for an overheated blow hard  self-promoting owner, who didn't give a shit about anyone but himself.  Maybe Irabu life would have been different if he stayed in San Diego or Japan. We'll never know but playing for the Highlanders did not improve his quality of life.    
Lost in the euphoria of the Mets four game sweep of the Red Legs and the fact they have been road warriors all season, is that the dreaded black uniform top and cap has been making many more appearance the last month or so than it did during the early part of the season.  I'll never understand this fixation with the black jersey and hat when the Mets road greys are one of the best looking uniforms in all of baseball. Now that Sandy Alderson has put this organization in his vice-grip hands, I am begging him to order all the black uniforms gathered up for an end of the season bon fire at Citi Field. I sure this guy will bring the gasoline and matches.   
Average Rating:
5
out of
5
based on
271
user reviews.