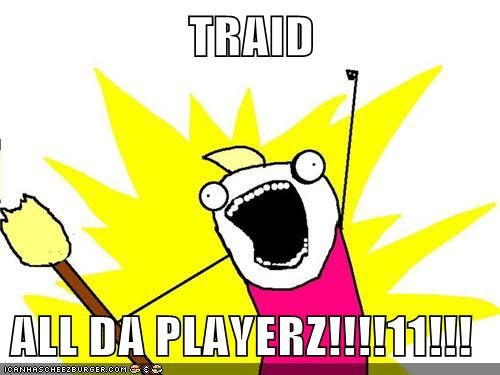 I'm positive that the Mets front office would love to make a deal or two or three today, Trade Deadline Day, (I was very close to taking the day off from work by claiming today as a religious holiday) but the Mets baseball ops know this team needs a ton of work to become a pennant contender and none of the roster restoration that's needed can be accomplished today.
The Mets outfield is a disgrace, as is the catching position along with the bullpen and depth at starting pitcher, but still the lunatic fringe of Metsfandom scream for Sandy Alderson to make a TRIAD!!!!!!!! Everyone is tickled that Zack Wheeler has zoomed up the prospect charts to the point he will be promoted to Buffalo this weekend and a September call up to the big club is not out of the question. What the loonies kind of forget is it took dealing Carlos Beltran to get Wheeler. The only player the Mets poses that would bring backing anything to close to a Wheeler-like prospect is David Wright and he's not going anywhere.
There are some, who think that Scott Hairston can bring back a big return prospect wise in a deal.  Hairston is outstanding when matched up against left handed pitching and he plays a plausible outfield, so if you were the Mets GM and listed Hairston for sale what do you think you'd get back in return?  B or C level prospect or a C and a D? Well, then why trade him? As it stands now, Hairston is the best outfield option the Mets have and with Jordany Valdespin as his lefty platoon partner to go with the platoon in left of Bay-Baxter, that is the Mets best chance to salvage any positive outfield production. I'd rather sit tight and keep Hairston than roll the dice on some kid from A ball.
The fact that the Mets are in a transition period is tough for many of the fan base to grasp. The Alderson Plan is to rebuild the organization via the Entry Draft and building a strong minor league system.  There is no reverse in this plan. What makes it more difficult to stay the course with this way of doing baseball business, is the part of the fan base than is in dire need of immediate gratification, who feels the lack of a TRAID is sign of failure, thankfully the Mets front office laughs off the Mong Mets Fans who think this way.
Average Rating:
4.9
out of
5
based on
167
user reviews.
http://www.kranepoolsociety.com/2012/07/31/who-needs-traids-its-matt-harvey-day/