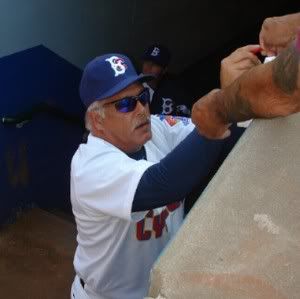 I spent the night at Coney Island watching the Brooklyn Cyclones tear apart the Hudson Valley Renegades 16-5, check out Amazin' Avenues recap of the game.
I'm loaded with work today so the post will be brief but this was the third game Cyclones game this season and Wally Ball is something else. The best part of watching the Cyclones is that Wally Backman coaches 3rd base and he has this team running the bases with aggression.
Backman got his first ejection from a game as a Cyclone in the top of the 9th inning as he questioned a called HR but that looked foul but the umps called it a fair. Now you say, the Cyclones were up 12 runs what the hell was Wally doing arguing? Well earlier in the game the base umpire (there are only 2 umps in NY-PENN games) called a Brooklyn runner out at first where he looked safe, by a lot that ended a Cyclone rally. I guess the umpire knowing Backman's rep didn't want to hear him, so he jogged out to the outfield grass after the call as Backman jogged across the field to the home dugout staring down the official. Wally wanted to go after him but the ump just kept jogging further out to the outfield. It was quite funny to watch.
But Wally filed that play away in his head until the 9th when he used the botched home run call as an excuse to let the young umpire know he can run but he can't hide from him and it's best to take your ass kicking from the manager like a man.
It was "Let's Go Get A Beer Doc" moment for Wally.
Average Rating:
4.7
out of
5
based on
235
user reviews.
http://www.kranepoolsociety.com/2010/06/25/wally-ball-is-fannnnnnnnnntastic/