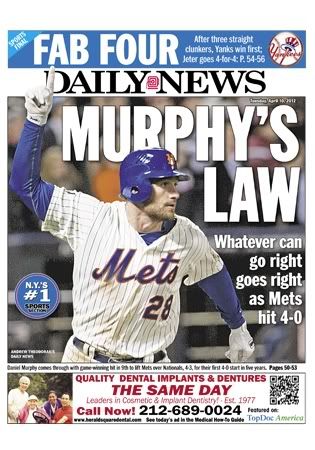 There is nothing better than watching your favorite team come from behind to win a game, then to top it off, one of your favorite players not only makes a game saving defensive play but then comes up to the plate with the winning run in scoring position and comes through with the game winning hit.
There is something different about Daniel Murphy so far this season. I saw some of it this off season when I got the chance to interview him at the Thurman Munson dinner with other writers and media people but when the main streamers moved on, it was just me and Murph. I shut off my recorder so I could have an "off the record" conversation with Murphy as we talked about some stuff other than baseball, mostly how the weather in NYC this winter was almost as nice as his native Jacksonville, where he worked out all winter and his getting a kick out me trying to sell him on living in Brooklyn as I brought up his short stay as a Cyclone.  We also spoke of the negativity that from outside forces that was surrounding the team and Murphy gave me a smirk and told me that stuff doesn't bother him or his teammates as the players, coaches and especially the manager won't let negativity enter the clubhouse.  So far Murph was right this team as the club seems to have stayed below the noise with this hot start.
I agree 100 % with what Bobby Ojeda said in the post-game show though, everyone is sky high happy as they're winning ball games, what you want to look at is if this attitude remains during the first 4 or 5 game losing streak as Bobby O pointed out, in the past this team would wilt and get real quiet during the tough times. That will be the real test for the 2012 Mets, their reaction to adversity.
I've said it before that sometimes I enjoy seeing a pitcher who is struggling try to find himself during a game and righting himself than watching a guy dominate a line up and last night Mike Pelfrey gave one of those find yourself performances.  His first inning had me squirming in my chair after three straight hits by Danny Espinosa, Ryan Zimmerman and Adam LaRoche as it looked like it was going to be an early Big Pelf meltdown but only one Nat crossed home plate so disaster averted. Pelf threw a lot of pitches and it seemed he was getting squeezed by home plate ump Todd Tichenor especially in the 6th when it looked like he stuck out Xavier Nady to end the inning but Tichenor blew the call and gave Nady life and on the next pitch Nady singled to center, prolonging the inning and ending Pelfs night and his attempt to go 6 full innings.
Pelf threw strikes and walked only one but he was tagged for ten base hits. He relied a lot on his sinker and slider most of the night but cranked up his four seamer to 90+ MPH when he needed it. It wasn't a great start or an awful start but it was better than normal Big Pelf start.
I want to see the Mets get into a bench clearer this season just to see who is dumb enough to take on Jon Rauch, that's one guy I'd hate have mad at me.
Ed Marcus a/k/a Rusty Jr over at Real Dirty Mets has a great review of R.A. Dickey's book. If you haven't bought Dickey's yet shame on you.
By the way I will have a special announcement of a contest I will be running here on Friday that you won't want to miss.   
Average Rating:
4.5
out of
5
based on
176
user reviews.
http://www.kranepoolsociety.com/2012/04/10/oh-yeah-imwith28/